YT-1301 Latch and Shroud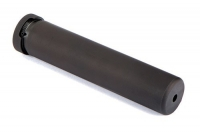 The YT-1301 is a latch and shroud to be used with the First Generation Beretta 1301 in order to address the potential of the catastrophic shell dump malfunction. Both the Latch and Shroud are machined from 6061 aluminum and Type III hard coat anodized. The YT-1301 comes with the Latch, Shroud, two (2) screws (in case one becomes damaged or stripped), thread locker, and a hex key for installation.
When the factory latch is pivoted rearward, it activates the shell stop, releasing multiple shells into the gun's receiver and locking up the action. The shroud, originally conceived by Tom Jones of Tau Development Group and pistol-forum.com and redesigned by Aridus Industries, covers the rear of the redesigned latch to prevent rearward actuation from accidental bumps.

The YT-1301 takes the Beretta 1301 from being a great range gun to a top contender for hard use semi-auto shotguns.

Link to parts manufacturer