VTAC FlashLight Mount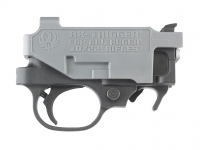 This new and improved version of the original VTAC Light Mount Design gives you enormous flexibility. It will allow you to mount most lights with a .80 or 1" diameter and will fit the VTAC-MiniL4 as well as the inexpensive Surefire G2 Nitrolon, Executive Series, and many others. The sleek VTAC design even offers a position in the insert to accommodate the clip on the light. Depending on your mounting preferences, the VTAC can be mounted in such a way that the light can be activated using a tape switch or it can be mounted in such a manner allowing you activate your light using the push button on the back of the light. (Note: Flashlights and firearms not included and must be purchased separately).
The VTAC Light Mount is impervious to most chemicals, solvents and oils and its highly advanced thermoplastics will not shrink. With the high quality and innovative design that you expect from a Viking Tactics product, the VTAC Light Mount will keep you in the light and out of the dark.
Link to parts manufacturer