VIS Upper Receiver with Integral Free Float Quad Rail Handguard & Combination Forward Assist / Shell Deflector Assembled AR-15 Matte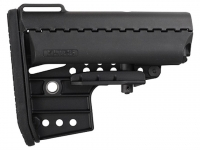 The Vltor Versatile Interface Structure (VIS) AR-15 Upper Receiver is a Polylithic Flat-Top Upper Receiver that is integrated with a Free Float Quad Rail Handguard for a rigid, extremely stable foundational platform that is an excellent choice to use as the basis for a ground-up custom rifle build. While the Flat-Top Upper and Top Handguard section of the VIS begin as 2 separate, partially machined components, they are fused together during manufacture by a proprietary welding process, emerging as a single piece that has been stress relieved, final machined, and heat treated. This unique design enabled the Vltor VIS to become the 1st of the 1-Piece AR-15 Upper Receiver/Handguard Assemblies capable of accepting Any Standard AR-15 Barrel on the market! The Bottom section of the Quad Rail Handguard incorporates a protective Heat Shield and is a removable piece that's easily detached and re-installed to the main receiver body via 2 recessed levers, maintaining full compatibility with under-barrel mounted flare or grenade launching devices.
This VIS Upper incorporates a combination Forward Assist and Shell Deflector into its flattop MUR Modular Upper Receiver, and features a Quad Rail Handguard, creating a continuous Top Rail platform for optics and/or accessories. While not compatible with any gas piston operating systems, the VIS will allow most low profile gas blocks to be mounted inside and under the handguard. The Assembled Vltor VIS Upper is compatible with all standard AR-15 parts and comes complete with a proprietary barrel nut, barrel nut wrench, ejection poor door assembly, M203 indexing bracket and instructions.

Link to parts manufacturer