Universal Q-DC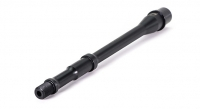 The Universal Q-DC is compatible with most pump action and semi-auto shotguns. Due to the trigger assembly pins and the shape of the Universal Receiver Adapter, it is not recommended for Remington 870s or the Mossberg 500/590. Please choose the hardmount dedicated units for those particular models.
Utilizing Very High Bond 3M double sided tape, the adhesive has an operating temperature or -30f to +230f, so you don't have to worry about it failing due to temperature extremes. The Universal Receiver Adapter has a large cutout to allow access to pins so the user can still disassemble their shotgun. Designed to fit the Beretta 1301, Benelli M2 & M4, Mossberg 930, and many others.

The Universal Q-DC comes with one (1) Universal Receiver Adapter and one (1) Detachable Carrier.

Link to parts manufacturer