UNI-BLOCK SCOPE RINGS 1.5" 34mm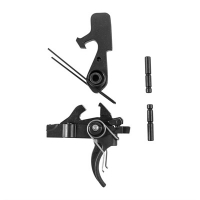 A key goal at RRS is to deliver equipment that looks every bit as good as it performs. We found little sensitivity to product aesthetics in the Sport Optics and Rifle market, so we knew we could add value. Scope mounts are a perfect example. We couldn't stand the sharp-edged, blocky hunks of metal being offered to mount high-value optics to precision rifles.
RRS Uni-Block scope mounts are gorgeous – dare we say the best-looking monobloc-style scope mounts on the planet. These solid, satin tumbled, heavy-duty pieces of art perfectly pair your prize scope with your precision rifle system. And rest assured, great aesthetics come with no functional sacrifice; the technical precision, performance and strength of the RRS Uni-Block scope mount are second to none.

Link to parts manufacturer