Tuned & Polished Extra Power Buffer Spring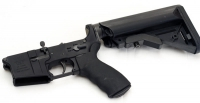 JP has developed a new high grade extra power buffer spring for AR-15/M4 carbines with collapsible stocks. It is custom made to JP specifications. Center-less ground and polished on the outside edge to a mirror finish for silent, smooth operation. 7% more powerful spring rate for improved impulse feel resulting in faster sight recovery and improved reliability. This spring will make you AR-15 sound quieter and smoother. This is an inexpensive way to improve the sound, feel and reliability of your AR-15 or M4 carbine. The length and power of this spring falls between the Sprinco Enhanced and Extra Power Springs.
*Designed for .223/5.56mm rifles with collapsible stocks, and works with a wide variety of AR-15 cartridges.
Link to parts manufacturer