Trash Panda Suppressors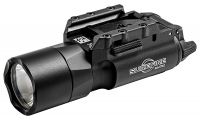 Q Suppressors has broken the mold once again. By introducing their compact, all-titanium Trash Panda to the 7.62mm rifle category of silencers, Q adds to their stellar haul in that classification. We like to think the trash portion refers to the fate of targets unfortunate enough to cross its paths and the panda aspect references to its cute, condensed physique; however, never throw this panda in the trash.
With Portsmouth, NH, as their backdrop, the pioneering Q team—led by Kevin Brittingham—designs modern silencers for the modern shooter. Using his previous Sig and AAC stints as motivation, Brittingham develops ground-breaking cans that are quiet, effective, and attractive. Behold, the Trash Panda.

Link to parts manufacturer