Tikka Prefit Barrel - Barrel Nut 6.5CM, 24" Medium Palma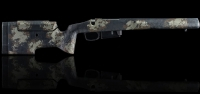 Patriot Valley Arms replacement rifle barrels are well known for the consistent, accurate, match winning performance. They have been used to win rifle matches and take game all over North America. Opening up the product line more is a long awaited barrel offering for Tikka T3 actions. Like all of our barrel offerings these are cut on full CNC equipment with gauging processes and inspection at each step to ensure that we offer the most accurate, consistent and smooth fitting barrels on the market. Each step of the barrel cutting process is inspected for surface finish, consistency, geometry and each lot of rifle barrel blanks from Rock Creek is tested on our shop rifles for any kind of accuracy, velocity inconsistency or heat induced shift problems.
These barrels are cut with award winning Rock Creek barrels. Customers have the option to choose button or cut rifled, lapped and double normalized barrel blanks.

Link to parts manufacturer