Supergrade barreled action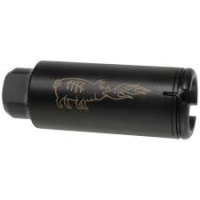 Great combination-KIDD Supergrade barrel and KIDD Supergrade receiver!
Purchase a KIDD Supergrade Barreled Action and customize!
Supergrade Barrels and Receivers Only!
Receiver comes standard with the following KIDD items: Zero MOA scope base, buffer, receiver pins, take down screw, clamping screws
Will drop into stock with 10/22® inletting and a .920 barrel channel.
KIDD's latest innovation, we have developed a unique barrel interchangeable system with an extra long barrel extension of 1 7/8" length (compared to the standard 3/4" barrel extension). After removing the barreled action from the stock, the customer can now easily slip the barrel in and out of the receiver without resistance and still maintain the utmost in stability and harmonics. KIDD now offers this alternative with our three part locking and stabilizing system sliding into a reinforced receiver. With a 1 7/8" barrel extension, utilizing an indexing flat, clamping v, and clamping flat. The indexing flat allows the shooter to perfectly time the barrel so that the extractor cut is properly aligned. The clamping v and flat secure the barrel into the receiver with two 1/8" hex head bolts.
This is our Supergrade .22LR receiver coupled with our Supergrade .22LR barrel. The KIDD Supergrade Receiver is an aftermarket receiver that is intended to only mate with a KIDD Supergrade barrel with the 1 7/8" extension. Our Supergrade receiver comes with the easy access rear cleaning hole and interchangeable low scope base with varying MOAs available. A zero degree scope base will come installed on the receiver and an optional of 10, or 20 MOA can be purchased to assist the shooter in reaching the longer distances. Both the scope base and rear tangs have mating designs to the receiver so that our rifles have great rigidity as well as some customization aspects. We machine each receiver from billet 6061 T6 aluminum and use an anodized finish either black or silver.

The optional rear tang which will increase the stability of the rifle but will also require some custom inletting to the stock.

Must be over 18 to purchase a rifle barreled receiver and we must ship this to an FFL in your area.

Link to parts manufacturer