Striker Control Device ( SCD) gadget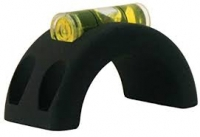 The Striker Control Device (SCD) replaces the slide cover plate on your Glock pistol. When thumb pressure is applied to the SCD it blocks the rearward motion of the striker, which blocks movement of the trigger bar and prevents the trigger from moving.
The SCD is completely passive. It does not lock or otherwise interfere with the normal operation of the pistol unless physical force is being purposely applied by the user. When using any normal firing grip, the SCD is not engaged and your pistol fires as usual with no additional steps needed.

The SCD was inspired by standard procedures for double action hammer fired guns. Users are taught to keep pressure on the hammer while holstering. In doing so, trigger motion is blocked and the gun is prevented from firing in the event that something (finger, shirt, thumb break, jacket drawstring, etc.) finds its way into the trigger guard. The SCD provides this same capability for Glock pistols.

The SCD provides an extra layer of safety when holstering. It does NOT replace awareness and safe gun handling. It creates an additional layer of safety to help avoid accidents. ALWAYS follow the four cardinal rules of firearms safety.

Link to parts manufacturer