SOCOM 10.3" Barrel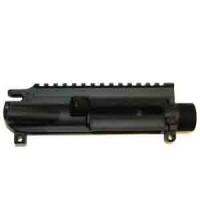 This barrel is the 10.3" thick SOCOM profile (without M203 cuts), very much like the 11.5" FBI profile, but this barrel is 10.3," in the thick profile. This is new old stock, 2015 Colt manufactured. This is not a cut-down.
Factory Colt marked, "C MP 5.56 NATO 1:7" and date stamped 08/15. Standard Colt chrome-lined, to last almost forever, and that includes throwing it in the mud. Comes ready for a flash hider of your choosing, with standard 1/2-28 threading. Included standard barrel nut and FSB, and accepts lower or side-mounted sling swivels (but none included)

This barrel is an great upgrade for a Mk18 build, or for a custom short barreled rifle. yes, it will fit under M4 handguards or a RAS rail.

This barrel left the Colt factory as a 10.3" barrel, but it was designed to be installed in Colt's proprietary monorail system. Our friends at Potomac Armory have installed and timed an M4 extension, and re-drilled the gas port to be the correct 0.070" port for the ultra-short gas system.

Link to parts manufacturer