Scope Mount QD LT745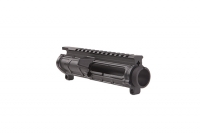 The LT745 places the centerline of the optic 1.5" above the top of the rail for optimum cheek weld with a variety of flat top rifles. The cantilever positions the scope out front over any handguard or barrel nut, eliminating the need to span from the receiver to the handguard. The cantilever also allows the shooter to obtain proper eye relief.
The popularity of the SPR series of mounts is partially due to the innovative backbone that connects the split vertical rings. This design provides a more robust platform for the optics, increases repeatability, and eliminates the need for time-consuming lapping. The rings are precision-machined with the tightest tolerances, and feature threaded steel inserts, built to withstand a lifetime of abuse.

Link to parts manufacturer