SBR Tactical, Stainless 11.3",1/8 twist barrel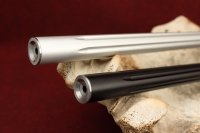 Nearly two decades of building the finest custom tactical AR-15 rifles have given us the insight to develop a comprehensive line of stainless steel, match grade barrels that offer superior accuracy, reliability and longevity for your next custom AR rifle project.
All Wilson Combat Match Grade AR-15 barrels are precisely crafted of the finest American-made 416R rifle rated steel on computer controlled equipment to our exacting list of technical specifications. These proven barrels feature a hand-polished bore and feedramps and then complete a rigorous final inspection process that ensures your new barrel will meet your most demanding expectations. All barrels feature crisp CNC markings, precision muzzle crown and a chamber and gas port optimized for reliability.
300 AAC Blackout
The 300 Blackout (300 BLK) was designed by Remington/AAC to create a reliable, compact .30 caliber round for the AR platform that uses a standard bolt and magazine. 300 Blackout is optimized for suppressed fire with heavy bullet subsonic loads but can also be used with supersonic ammunition when extra range is needed. The 1-8" twist will work well for subsonic and supersonic loadings alike and there is typically no need for an adjustable gas block when switching back and forth between the two loadings.
Tuned for outstanding reliability, the Wilson Combat SBR (Short Barreled Rifle) Tactical is our smallest Custom High Performance AR rifle barrel. Highly portable and hard hitting, the SBR Tactical upper will transform your registered lower into a superior carbine for close quarters operation. Medium taper is ideal for high rates of sustained fire. You will love how quickly and easily the SBR Tactical balances and shoots.
Note:When assembled into a Short Barreled Rifle, all NFA rules apply.
Link to parts manufacturer