Redi-Catch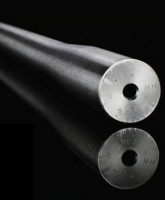 The Redi-Catch allows for the bolt to be locked open by pressing the magazine catch with the trigger finger while pulling the bolt back with the left hand. The result is a more ergonomic and rapid bolt lock back.
Because of the elasticity of the spring steel wire, the magazine catch button can be depressed at any time or the entire time the bolt is being pulled back, as the bolt catch paddle can move through the different stages of the cycle.

Unlike existing devices, the bolt catch activation timing becomes irrelevant and the reliability of the bolt catch engagement is at absolute maximum.

Installation is a breeze. Simply remove the existing magazine catch and replace with the Redi-Catch. Then place one end of the "S" shaped flexible spring steel wire in the Redi-Catch hole and making sure the wire is in the groove near the top of the Redi-Catch post, place the other end behind the bolt catch paddle.

The Redi-Catch was successfully launched by Redi-Mag in early 2014. Subsequently, in 2015, a Divisional application of an earlier existing patent owned by AXTS was granted and some of the Redi-Catch features were deemed as patent infringing. Successful discussions between the two companies have rendered a Licensing Agreement to facilitate the continued availability of the Redi-Catch to our customers.

Link to parts manufacturer