Rail Mount Vertical Grip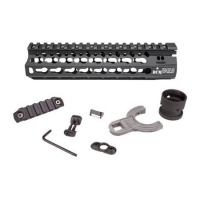 The [ Patent Pending ] Gear Sector™ Rail Mount Vertical Grip was designed to provide a low profile, ergonomic solution for increased weapon control. It was designed to bridge the gap between a handstop and a full blown vertical grip. As such it is the shortest of its kind currently on the market at only 2.00″ over the rail surface. We designed them to fit perfectly flush with the Tango Down rail panels for an uninterrupted rail space. They can be mounted anywhere on a picatinny rail but work best when run in tandem with a side mounted hand stop. They provide an excellent reference point when mounted on the lower rail space.
The Gear Sector™ Rail Mount Vertical Grip is constructed using multiple base materials and is precision CNC machined from billet stock. Material and finish processes are outlined below:
Base Material: 6061-T6 Aluminum

Base Finish: Military Specification ( MIL-A-8625F ) Type III, Class II Hard Coat
Index Material: 1144 StressProof® heat treated steel
Index Finish: Nitrocarburising by Nitrotec®
Weight: 2.50 ozs.
Compliance: 100% Berry Amendment Compliant
Link to parts manufacturer