QUICK DETACH 2- RAIL SECTION W/ QD SLING MOUNT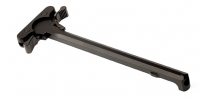 Add a Quick Detach Sling Mount where you need it with the LWRCI™ QD Sling Mount 2-Hole Rail Section Kit. Compatible with all LWRCI™ Modular Rails across all calibers/platforms. Measuring 2.345" from end-to-end the compact rail section mounts easily with 2 screws.
Our QD Mount design allows four 90-degree arcs.

The LWRCI™ 2-Hole Rail Section kit includes:

1- 2-hole rail section,

3- rail screws, and
1- T-20 Torx wrench.
Note: The QD mount does not allow for 360-degree free swivel.
Link to parts manufacturer