On Point Sights (OPS) - Fixed - Rear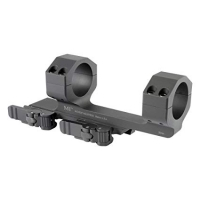 Scalarworks has spent two years developing the On Point Sights for the modern rifle. Working in conjunction with Larry Vickers, the Scalarworks OPS are designed around a 15" sight radius (found on modern 14.5" carbines) compared to the A2 sight posts which were meant for a 20" sight radius for M16.
On Point Sights have manually adjustable elevation and windage with a refined 0.5" MOA per click, which is matched to most common Red Dot Sight adjustment increments. The rear aperture is CNC milled and presents a flat face toward the shooter, eliminating highlight bias (the scallop face of A2 apertures would catch and reflect light.)
Most prominently, the Scalarworks sights are meticulously machined to be the lightest iron sights on the market.
Link to parts manufacturer