Muzzle Weighted barrel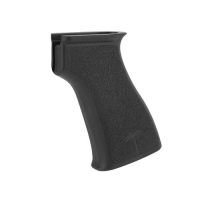 The barrel shank is machined 0.0025" oversized to create an extremely tight fit into the factory receiver. This prevents the barrel from canting once the locking block is installed. We've developed our unique chamber to provide optimal accuracy but also superior function.
There are several fluting options available as well on all of our stainless steel barrels. Choose from I-Fluting, Snake Fluting or the conventional Straight Fluting.

Snake Fluting is not a spiral or helical flute, nor is it a conventional straight flute, but a unique method of cutting flutes. Snake Fluting is a set of flutes that are positioned around the barrel to provide unsurpassed rigidity and longitudinal stiffness. The Snake Flutes also increase surface area to help cool the barrel during long, rapid fire strings.

I-Fluting is the next generation of fluting patterns. It is unlike any other fluting pattern available. In addition to the dramatic appearance, the innovative I-Flute design is extremely functional. It reduces more weight and creates more surface area than any of our other fluting designs.

Straight Fluting is the most traditional of our fluting patterns. The straight fluting pattern not only decreases weight without affecting accuracy, it will also increase surface area to help cooling during rapid fire shooting. Our straight fluting features six longitudinally flutes that are machined in a unique method avoiding any additional stress on the bore.

Specs

18.5" length, without comp
Barrels that feature compensators are all threaded 1/2 X 28
Link to parts manufacturer