MOE K2+ Grip - FDE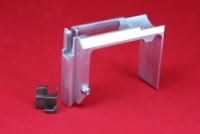 Magpul continues to grow and develop based on innovation, simplicity, and efficiency. At Magpul, mission driven requirements inform their product design, materials, and manufacturing, focusing on efficiency without sacrificing quality or performance.
The MOE-K2+ Grip combines reinforced polymer body construction with comfortable, wrap-around rubber overmolding. The MOE-K2+ is a drop-in upgrade for the AR-15/M4 offering a more vertical grip angle. The steeper vertical grip angle is optimized for use with personal defense weapons, improving comfort and control on short length of pull rifles. Features rubber overmolding for positive weapon control and a unique backstrap design for proper trigger finger placement. Compatible with optional Magpul Storage Cores (not included). All mounting hardware and a basic grip cap included.

NOTE: This grip will function properly with 7.62 NATO AR-10/SR25 rifles however, depending on the make of the rifle, it may leave a gap between the beavertail and the receiver. If present, this gap is purely aesthetic and will not affect function.

Link to parts manufacturer