Mark 6 3-18x44 M5B2 H59 Riflescope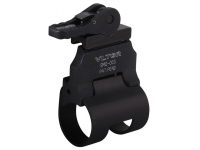 Leupold Mark 6 Features:
DiamondCoat 2
Exterior lens surfaces are treated with DiamondCoat 2, an ion-assist lens coating, for higher light transmission and the greatest level of abrasion resistance we've ever offered. DiamondCoat 2 has the additional advantage of assisting in light transmission, for greater brightness, clarity and contrast, and will prove its worth in the wildest places on earth
Xtended Twilight Lens System
The Xtended Twilight Lens System optimizes the transmission of low-light wavelengths, so you see the details of low-light scenes in greater, brighter detail than with any other riflescope available.
Front Focal Plane
The reticle magnifies along with the image, so you can estimate range at all magnification settings. These reticles are ideal in tactical situations, yet also provide greater accuracy of range estimation for hunters and target shooters.
Link to parts manufacturer