KMR Alpha Rail Free Float Handguard For AR15 Style 5.56/.223 Rifles - 10 Inch KeyMod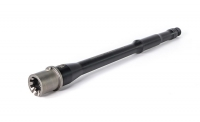 All the advantages and features of Bravo Company's KeyMod Rail, now available in 100% aluminum. Manufactured from aluminum, it is lightweight yet durable. Also featuring a proprietary patent pending mounting, indexing and lock up system that mitigates 12:00 rail movement under heat generated from the barrel nut. Handguard alone weighs 8.1 oz!
The KMR Alpha is hardcoat anodized for corrosion resistance as well as to maintain a non-reflective finish. The KeyMod interface system was developed by Eric Kincel (now the Director of BCMs' product development team) to work in parallel with the current picatinny system. In many applications it will advance modularity past the current 1913 rail system. The BCM KMR Alpha also allows for a larger range of modularity offering 4 different offset mounting positions between traditional 3, 6, 9, and 12:00 positions.

In the most basic of applications the KeyMod system allows for universal modularity between various manufacturers of accessories, and accessory rails. A big win for the trigger puller. As the industry advances the modular accessories will mount directly to the KeyMod instead of picatinny, allowing for a lighter, cleaner, and less bulky weapon system. Includes BCM KeyMod Sling Mount.

Please note: nylon/polymer picatinny rail sections are for NON-load bearing accessories only. For load bearing accessories, we recommend the aluminum picatinny rail sections. Do NOT exceed 20 in/lbs when securing KeyMod fasteners on polymer accessories. Aluminum picatinny rail sections may be torqued to 30 in/lbs. Handguard flares forward (towards muzzle end) at the 3 and 9 o'clock positions approximately 1/4".

Features

- Length: 10.4"
- Weight: 6.3 oz
- Mounting hardware: 2.2 oz
- Installed weight: 8.5 oz (with hardware)
- Inside diameter: 1.3"
- Outside diameter: 1.5" (flat to flat)
Link to parts manufacturer