Handguard Rail 11" (LT15-11FL)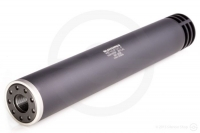 LaRue Tactical 11" Handguard LT15-11FL.
11.0 inch free-floating handguard with LaRue Locking System.
Ideal for rifles in the 16" range. The 11.0's length stops just past mid-length gas blocks providing true free-float. Our two-pin proprietary barrel nut system with its locking anti-slip plate, sets LaRue handguards apart from the competition. Once properly installed, there is no chance of movement whatsoever. The side and bottom rails are tucked closer to the barrel, keeping the profile narrower and more streamlined. LaRue handguards also include integral QD sling-swivel sockets at the base of each side for convenient mounting 2-point slings. Additionally, our Free-float Rail system provides an excellent heat-sinking feature that pulls throat-damaging heat away from the chamber area. Another heat-sinking benefit is the elimination of pressure-spikes, which some feel is the cause of a large part of pre-mature bolt failures.

Link to parts manufacturer