Grand Slam 4.5-14x40mm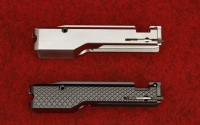 The 4.5-14x40 Grand Slam Riflescope from Weaver offers the proprietary Micro-trac system for unparalleled accuracy when adjusting the windage and elevation settings. Fully multi-coated glass yields 94% light transmission. The Grand Slam is the perfect variable power scope for all low light conditions. Constructed of a one-piece, 1 inch tube, this riflescope is not only shockproof but the housing has been fully sealed, and then purged with bone-dry nitrogen to ensure all-weather performance. Regardless of the climate - the field-of-view will be sparkling clear, while the optic's internal mechanism will be well protected from the negative effects of moisture and precipitation. Hunters will appreciate this riflescope in the woods, swamps and open plains.
To use a riflescope with your firearm, you'll need a mounting base and mounting rings in addition to the scope itself. Bases attach to your firearm and the rings attach your scope to the base. Proper spacing of the rings, as well as the ring height should be considered to ensure that a proper line of sight can be established. This will maximize the value of your investment, and enhance your shooting experience. It should be noted that in many mounting applications, a professional gunsmith's skills will be needed for proper installation.

1" single piece tube provides rugged durability

Nitrogen purged, provides waterproof and fogproof protection
Adjustable Objective allows parallax-free shooting without moving the scope's impact point
Micro-Trac adjustment system furnishes accurate and completely independent windage and elevation control
Fully multicoated optics: multiple layers on all air to glass surfaces for a brighter, higher-contrast image with less eyestrain
The Ballistic-X reticle features a standard 4-post cross hair configuration. The four medium weight posts morph into light weight posts to guide the eye to the center of the sight picture. On the lower stadia are 3 hash marks that provide for bullet trajectory compensation for long range shots
Link to parts manufacturer