GAMMA 65 MUZZLE BRAKE 6.5 CREEDMOOR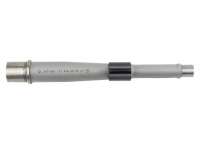 The VG6 Gamma 65 is a muzzle brake and compensator hybrid. Designed with precision techniques to eliminate recoil and dramatically lessen movement, it has been machined for the user with optimal performance in mind.
The VG6 Gamma 65 features both breaking and compensating to inspire confidence and allow faster follow up shots.

17-4ph heat treated stainless steel with black nitride or bead blasted stainless steel finish

5/8-24 RH TPI
Includes crush washer
2.4 oz weight
For use with the 6.5 Creedmoor, 6.5 Grendel, and 6.8 Remington SPC platform
If looking for a hybrid brake /compensator for your next build, or to update your existing rifle, the VG6 Gamma 65 should be a consideration.
Link to parts manufacturer