G5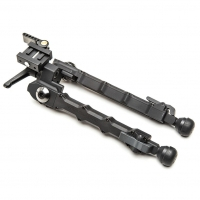 Titanium, stainless steels, and inconel are mated throughout the G5 to ensure the right material for each task.
It adds 5.5 inches to the overall weapon system length, affixing over our QUICKMOUNT flash hider - an easy push and twist that may be done wearing gloves, in any weather condition, and in total darkness. The mount provides repeatable POI shift each time it is mounted.

The barrel portion of the mount is torqued into position to assure utmost accuracy. By utilizing additional flash hider mounts on a variety of weapons, the G5 suppressor can be quickly, easily, and securely moved from weapon to weapon as the situation requires. The G5 QUICKMOUNT retains compatibility with the older Bi-Lock mounts.

QUICKMOUNT Flash hiders are available in 1/2-28 (for most US mfg. carbines), a special 1/2-28 utilizing the Smith Vortex flash hider with our lockup, Metric 15x1RH (HK), 9/16-24 (RH or LH), or with a flash hider that mates G5 suppressors with the FN P90 PDW.

Mount: Flash Hider Not Included

For Barrels: 10.3" or Longer
Link to parts manufacturer