FSC556 Flash Suppressing Compensator - Gen 2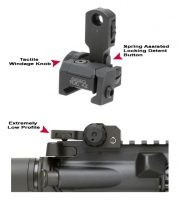 The Flash Suppressing Compensator (FSC) Series of muzzle devices from PWS provides superior compensation characteristics combined with enough flash suppression to keep the flash out of your optics and line of sight. Designed for both competitive and tactical use, the FSC Series allows for superior muzzle stabilization and aids the shooter in faster follow-up shots and accuracy.
The unique port design of the FSC Series yields muzzle control that meets or exceeds the performance of the best muzzle brakes on the market without the teeth-rattling overpressure indicative of other brakes and compensators.

All of the FSC Series muzzle devices have been classified as a non-flash suppressing device by the BATFE, thus removing any restriction from assault weapon ban states or provinces. A copy of this document is available upon request or on our website at www.primaryweapons.com.

A PWS signature product, the FSC 556 ships standard on the FNH® SCAR® 16S. Coupling flash suppression with muzzle control, the FSC 556 is an ideal compensator for putting a high volume of rounds on target.

Link to parts manufacturer