EXTENDED BOLT RELEASE V3 (EBRV3)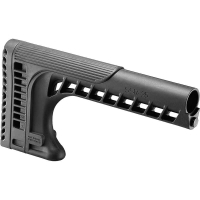 The Phase 5™ Extended Bolt Release V3 was built on the legacy of the patented monolithic EBRv2 and EBRv2-SC levers, with several design upgrades.
The Extended Bolt Release Version 3 was designed to be compatible with all mil spec AR-15/M16 receiver sets as well as many billet, side charging, and even left-handed weapons.
The EBRv3 gives the operator the ability to reload quicker, clear jams more efficiently, and eliminates unnecessary hand movements during some operations by extending the lever into the trigger well for access on the right side of the weapon.

Like it's predecessors, this is a one-piece replacement part for the mil spec bolt catch found in all AR-15/M16 lower parts kits and is a great upgrade for both right and left-handed shooters. The Phase 5 Extended Bolt Releases are depended on and trusted by tactical trainers and LE officers worldwide.

Link to parts manufacturer