Dust Cover Ultra-Light AR15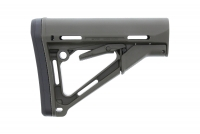 V Seven's AR-15 Ultra-Light Ejection Port Covers do the job of the original factory part but weigh half as much. They're made from 7075 T6 aluminum alloy and are at least 45% lighter than the mil-spec steel door. The exterior of the door is completely smooth, giving your rifle a clean, futuristic look. Three models to choose from:
Classic: 8.3 grams

Designer: 7.8 grams
Air: 6.7 grams
The Ultra-Light Ejection Port Cover has a durable, Type III hardcoat anodized finish to resist corrosion and comes with V Seven's Titanium plunger and stainless steel roll pin.
Link to parts manufacturer