Clamp on Muzzlebrake Gen II Aluminum Asst Sizes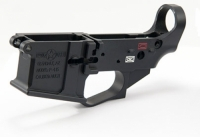 SXT Gen II Aluminum Clamp On Muzzlebrake to suit a variety of barrel profiles.
Finished in Anodised Matte Black and Satin Silver.

For correct fitting of these brake we need you to measure your barrel using a set of calipers, 3-4mm back from the muzzle, we cannot tell you what size brake you need unless you give us this exact measurement.

Link to parts manufacturer