Buffer Spring blue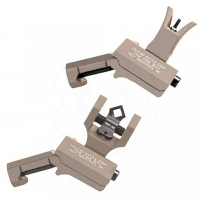 Standard AR15/M4 buffer springs (aka "action springs") are wear items which must be replaced regularly in order for AR-15s to operate reliably, with conservative replacement taking place every 5000 rounds. Sprinco action springs in comparison, are over engineered and will last over 50,000 cycles.
First clued in to these springs by former US Marine and US Army Special Forces solider and trainer Mike Pannone, the staff at Weapon Outfitters have run a SprinCo springs in our rifles since 2008. We at Weapon Outfitters fully endorse the Sprinco spring's performance and longevity.

Sprinco Chrome Silicon buffer springs are heat treated, stress relieved, and dual-stage shot peened in separate post winding treatments. Sprinco also treats each spring with a proprietary, deep-penetrating, re-micronized (to .3 Micron particle size), inhibited, Molybdenum-Disulfide (MoS2) formulation to eliminate 90% of all mechanical wear on the spring: this is why Sprinco springs do not produce the spring sound during shooting which is common with standard action springs.

Link to parts manufacturer