BEAST 5_25x56 Mil-R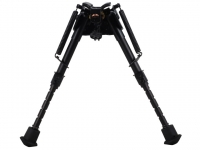 This Nightforce Beast 5-25x56 riflescope with Mil-R reticle features Zerostop, I4F, .1 Mil-Radian, and a parallax adjustment of 45 meters to infinity.
The Nightforce BEAST is called that because nothing like it has ever created before now. To solve problems with older models Nightforce used new technologies to create the BEAST. The goal was to include features that would have been pipe dreams to others. Nightforce's BEAST is the end product of that goal.
Nightforce is pleased to offer the BEAST to hunters worldwide. Creating the BEAST was a challenging, demanding, and overwhelming task. The only fitting name for this product is BEAST since it seems like a monster. BEAST stands for "Best Example of Advanced Scope Technology." Because that's what it is. Features of the BEAST include:

First Focal Plane Precision

New Age Technology Never Before Used
New Standard for Optical Clarity
90%+ Light Transmission
Magnification: 5-25x
Length: 15.37"
Flip Up Lens caps included
Link to parts manufacturer