BCG- NP3 Coated Carrier, Bolt and Cam Pin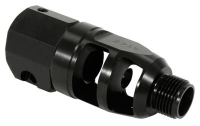 Complete Bolt Carrier Group with HP/MPI tested Carpenter 158 NP3 coated Bolt and NP3 coated Cam Pin.
Shot Peened
Sprinco 5-Coil Heavy Duty Extractor Spring
Black Insert
Nickel PTFE Carrier
SIONICS bolts are manufactured from Carpenter 158® Steel. Each Bolt is HP/MPI tested and inspected. Each Bolt is shot peened and comes with a Sprinco heavy extractor spring and black spring insert. The Bolt and Cam Pin have been NP3 treated to enhance corrosion resistance and carbon build up.

Our M16 profile Bolt Carriers are machined to USGI specifications. Our M16/M4 carrier includes a Mil-Spec Gas Key. The Gas Key is heat treated per GI specifications and NP3 coated. The Gas Key is secured to the carrier via USGI domestic manufactured Grade 8 fasteners and properly staked per Military Specifications. These properly hardened parts insure a strong staking and proper gas system functioning.

Each carrier assembly is treated with a durable Nickel/PTFE plating which creates a permanently lubricious surface which reduces the need for lubrication.

Link to parts manufacturer