AR Enhanced Lower Receiver Parts Kit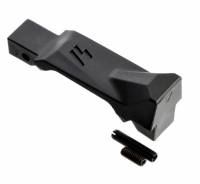 The SI Enhanced Lower Parts Kit offers a convenient upgrade package whether you are assembling a new lower receiver or breathing new life into an existing build. This kit features Strike Industries Enhanced parts, including the bolt catch, magazine catch and button, pivot and takedown pins, and Strike's 60/90 degree ambi safety selector.
Kit includes:

Strike Industries Enhanced Bolt Catch
Bolt catch spring
Bolt catch plunger
Bolt catch roll pin
Strike Industries Enhanced Magazine Catch
Strike Industries Enhanced Magazine Release Button
Magazine catch spring
Strike Industries Enhanced Pivot Pin
Strike Industries Enhanced Takedown Pin
(2) takedown / pivot detent springs
(2) takedown / pivot pin detents
Strike Industries 60/90-Degree Ambi Safety Selector
Safety detent
Safety detent spring
Buffer retaining pin
Buffer retaining pin spring
(2) .154" trigger / hammer pins
Trigger spring
Hammer spring
Disconnector spring
Strike Industries products are designed by shooting experts for the shooting sportsman.

Link to parts manufacturer