AR-15 M16 A1 UPPER RECEIVER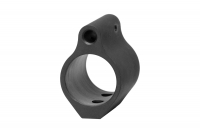 The Nodak Spud M16A1 Upper Receiver matches the features of the original M16A1 Receiver. Perfect for a "Retro" or reproduction build, these uppers precisely mirror the original profile. This match is only possible by utilizing forgings with the proper profile built-in.
Features specific to the Nodak M16A1 Upper Receiver are the original A1 profile, with no shell deflector, A1 rear sight housing and proper carry handle contours. The upper starts off as a 7075 T6 aluminum forging, then is machined to mil-spec dimensions. Once machined, the upper is finished with a matte gray or matte black hard anodized finish. The gray finish mimics the original anodizing found on the early rifles. Upper receiver does NOT have M4 feedramps.

Standard AR-15 components will work perfectly with this upper.

Link to parts manufacturer