AR-15 M16 A1 LOWER RECEIVER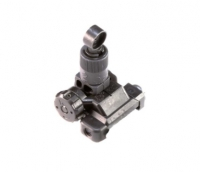 Designed in conjunction with Nodak Spud, the BRN-16A1 Lower Receiver matches the features of the original M16A1 Receiver. Perfect for a "Retro" or reproduction build, these lowers precisely mirror the original profile.
Features specific to the BRN-16A1 Lower Receiver are the proper M16A1 front takedown lug profile, and profile surrounding the receiver extension. Most forged lower receivers produced today feature "A2" profiles, which are incorrect for M16A1 reproduction builds. The lower starts off as a 7075 T6 aluminum forging, then is machined to mil-spec dimensions. Once machined, the lower is finished with a matte black hard anodized finish. This finish matches modern uppers found on the market today, as well as the Brownells M16A1 Upper Receiver sold separately.
Standard AR-15 components will work perfectly with this lower.
Simple, engraved markings on the lower include:

Model: BRN-16A1

Cal: 5.56mm
Mfg: Brownells Inc
Link to parts manufacturer