AR-15 Billet Upper and Billet Lower Set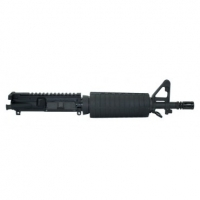 Mega Arms Billet Upper and Billet Lower Set-Hard Anodizing
FEATURES
"Our billet upper & lower have been designed for a truly unique look unlike any of our competitors.
"Machined from billet 7075-T6 aluminum vs. the more commonly used 6061 for a 70% increase in strength.
"Integrated trigger guard for added functionality, and strength.
"Comes standard with laser engraved "T" numbers.
"Magwell features an enlarged bottom flare and inner chamber for easier magazine insertion.
"Lug Angle at the shell deflector has been altered to 60.0° for increased effectiveness.
"Upper receiver has been re-designed to incorporate increased wall thicknesses for added strength.
"Butt stock attachment feature fortified for added strength in high power applications.
"Billet charging handle features a new anti-slip surface for improved grip.
"Black Hard anodized with a surface hardness of 60 Rockwell.
Link to parts manufacturer