Alpha Battle Rail Modular Free Float Handguard AR-15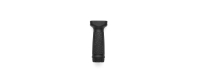 The Troy Industries AR-15 Alpha Battle Rail is a modular, free floating handguard that incorporates light weight, strength, simplicity and versatility into a slim, aesthetically pleasing package. Building off of the legendary TRX Extreme design, the Alpha Rail maintains the distinctive look and feel of the original, but utilizes a vastly improved low profile locking mechanism for installation onto the host rifle. The new locking system makes use of the factory barrel nut, meaning its removal is no longer necessary.
The Alpha Rail is constructed of 6061-T6 aircraft grade aluminum that is finished with a mil-spec hard coat anodizing for durability. With a full length top rail and the ability to accept modular rail sections along the handguard's circumference, the Alpha Rail is highly configurable by the end user and able to accommodate any number of tactical accessories with ease. Each handguard comes complete with 3 detachable black rail sections and all of the necessary hardware. Made in the USA.

Link to parts manufacturer