20" barrel .223 Wylde 1:8 Rifle Length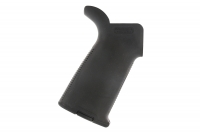 This high quality Bear Creek Arsenal barrel goes through its entire production life in Sanford, North Carolina at Bear Creek's facilities. Drilling, reaming, rifling, and turning are all accomplished on their CNC machines under ISO-9002 Quality Systems, allowing Bear Creek to put every barrel through a 100% inspection and air gauging process, ensuring every individual barrel is flawless before it leaves their facilities.
This 20", 1:8 twist, heavy contour barrel is machined from 41V50 chrome moly vanadium steel, heat treated to RC 28-32 hardness, properly stress relieved, and lightened with straight fluting. Chambered for .223 Wylde, BCA expects that it, along with any of their barrels 16" or longer, will hold a 1.000 MOA group at 100 yards when used with appropriate ammo and shooting techniques.

Link to parts manufacturer