12" Gunner, 6.5 Grendel - Match Series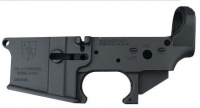 Faxon's MATCH SERIES of barrels takes our renowned performance and value up a notch.
Manufactured 100% in-house from gun-barrel-quality bar-stock, the Match Series starts with 416-R in 5R rifling. 5R is a hybrid rifling, with lands opposite grooves and reduced sharp angles that reduces jacket deformation increasing velocity and easy cleaning. After rigorous testing, the barrels are Nitride treated inside and out, locking in the bore, improving barrel life, and keeping the elements at bay.

The extension is coated in Nickel Teflon which maintains incredible dry lubricity, corrosion resistance, and with the coating, tightens up fit between the extension and receiver - again improving upon accuracy. Combined, the Match Series of barrels are ready for when duty calls or the buzzer beeps with unrivaled performance value.

Link to parts manufacturer
Barrel Material: 416R Certified Gun Barrel Quality Stainless Steel

Barrel Type: 5R Button Rifled

Barrel Caliber: 6.5 Grendel Type II

Barrel Twist: 1:8

Barrel Length: 12"

Barrel Profile: Gunner

Barrel Gas System: Carbine

Inside Finish: Salt Bath Nitride

Outside Finish: Salt Bath Nitride

Muzzle Thread:5/8-24 TPI (Threads Per Inch)

Gas Block Diameter: .750"

Gas Block Journal Length: 1.9"

Barrel Extension: M4, Nickel Teflon Coated

Weight: 1.27 lbs

Magnetic Particle Inspected!

Polished 11-degree Target Crown

no data