REMINGTON 700 SA DBM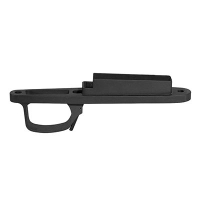 CDiPrecision Gunworks DBM (detachable bottom metal) is a popular choice for owners of rifles with blind magazines, who would like to incorporate a removable, external magazine to their rifle. CDiPrecision DBM features a one-piece, trigger guard /magazine well configuration. They are compatible with AICS magazines (short- long-, and magnum action lengths) and their clones.
Included in the price of the DBM is complete installation into your stock; the buyer pays for shipping (both ways) for the stock and the action to CDiPrecision. Turnaround is estimated to be three-weeks, though expedited service is available from CDiPrecision.