Arsenal inc.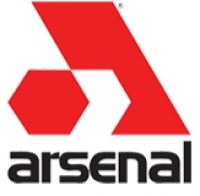 Arsenal Inc. is the exclusive licensed US manufacturer of the finest, most authentic semi-automatic sporting rifles. Available with either forged and CNC milled receivers or stamped receivers, they feature hammer-forged, chrome lined barrels and strict quality control in calibers 7.62x39mm, 5.56x45mm (.223 NATO), and 5.45x39.5mm. Arsenal Inc. utilizes the latest technology and materials while upholding the legendary standards of the world famous Circle 10 factory, Arsenal of Bulgaria.
Founded in the year 2000, Arsenal Inc. began as the licensed manufacturer of Arsenal products for the movie industry, government agencies and the shooting public. Today, Arsenal continues to make provisions for all three sectors. Since its inception, Arsenal Inc. has manufactured and imported more than 25 versions of rifles and pistols. And with each, Arsenal Inc. preserved the old-world firearms craftsmanship while adding in modern day technological advances that make the company's products top-notch.

U.S. models are made both fully automatic to satisfy Arsenal Inc.'s government contracts and semi-automatic for civilian use. All are shoulder-fired, gas- operated, magazine-fed rifles. Capturing the attention and trust of the American public, Arsenal Inc. continues to offer a large selection of rifles that appeal to all shooters whether an enthusiast or collector. These distinguished firearms are assembled by factory trained master craftsmen who protect and assure Arsenal's legendary reputation for quality.

Offered with either a fixed or folding butt stock, the rifles made by Arsenal Inc., USA are done so through a perfected manufacturing process that allows for the quick integration of new lines. This is also made possible through the use of stamped receivers which offer an economically priced alternative to traditional forged and milled receivers.

Each and every single product manufactured by Arsenal Inc. has our guarantee and integrity as we believe in a well-made, superior-functioning rifle.