NC-15 Complete Upper Assembly .223 Wylde 18" Barrel Nordic MC-3 Free Float M-LOK Hand Guard Matte Black Finish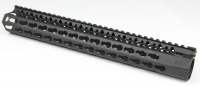 This is a complete upper assembly for your AR-15 pattern lower. All you need to do is pop the pins on your current lower, slap this on, and you got yourself a new .223 Wylde rifle. This specific upper comes with everything you need include the charging handle, bolt carrier and bolt. Included with this upper is a 16" black coated stainless steel barrel with a 1:8" twist rate. Also a NC-3 free float M-LOK compatible hand guard and a non adjustable low profile gas block. This upper features a carbine length gas system and the NC flash hider as well.
Features and Specifications:

Caliber: .223 Wylde (accepts .223 Remington and 5.56mm NATO)

Barrel: 1:8 Twist 18″ stainless steel w/ M4 feed ramps and mid-length gas port – cryogenically-treated with Black Teflon finish
Muzzle Device: NC flash hider, black finish
Gas Block: NC non-adjustable low-profile .750 dia.
Handguard: NC-3 freefloat M-LOK compatible handguard
Upper Receiver: NC15 billet
Bolt Carrier: Black nitride slabside AR carrier with properly staked gas key
Bolt: 9310 MPI
Charging Handle: NC Heavy Duty handle
Link to parts manufacturer