M620V Scout Light WeaponLight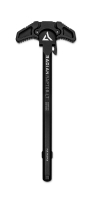 The M620V Scout Light WeaponLight (Desert Sand) from SureFire features 150 lumen white-light LED and 120 mW infrared illumination along with a Picatinny/Weaver compatible M93 Swing-Lever rail clamp. The levered clamp self-adjusts to off-spec rails and features a lever lock that prevents loosening from recoil or vibration. The coated optics and tempered glass supplies excellent light transmission and durability. For superior corrosion-resistance, the M620V is constructed from hard-anodized aluminum alloy and its o-ring sealed to prevent the ingress of moisture, dirt, and dust.
The M620V's compact form-factor minimizes weight while leaving valuable rail-space for additional accessories. It is powered by a pair of included 123A batteries that provide a tactical-level torrent of white light for 108 minutes or 8 hours in infrared mode. To activate the light - the operator can choose from the pushbutton tailcap switch that provides momentary and constant-on operation, or the momentary-on pressure-pad switch that comes on a 7" cable.

To move between white light and infrared simply twist the self-locking selector ring on the head of the light. Either mode creates a tight beam suitable for short to medium distances. Since there is no filament in the LED it is virtually burn-out free.

Link to parts manufacturer