9" 300 BLK AR BARREL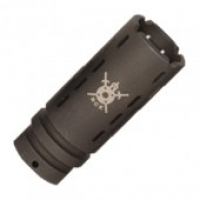 This barrel assembly is all you need to convert your 5.56mm AR to 300 AAC BLACKOUT (7.62x35mm).
The 4150 steel barrel features a black nitride finish (including bore and chamber), 1:7" twist for super- or sub-sonic use. It comes ready for silencer use, threaded 5/8-24. Includes gas tube, steel low-profile press-fit set screw gas block (barrel has set-screw divots for gas block alignment).

NFA-registered or Pistol lower required.

Requires barrel nut, gunsmith installation is recommended.

Link to parts manufacturer