VIKING TACTICS / SUREFIRE L4-MINI LIGHT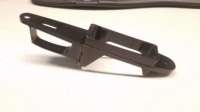 Viking Tactics has joined forces with Surefire in the development of the VTAC-MINI-L4 Light.
Unlike the E1 series of lights, the VTAC-MINI-L4 has a single output head. Every press gets you an incredible 110 lumens from an extremely small package.

This light was designed to fill the void between a Mini Scout Light and other E1 Series Surefire Light Systems. The VTAC-MINI-L4 Light has a KX1A 110 (LED) lumen single output head with a Z68 Scout light tailcap.

This light is intended to be used in conjunction with the VTAC Light Mount, this configuration gives the shooter the ability to have a low-profile and lightweight light on their rifle with a focused beam that allows for better target discrimination at extended distances. The tailcap will keep the shooter from having white light AD's, yet is user friendly for normal use or one handed weapon operation.
Link to parts manufacturer