Tikka T3 titanium bolt handle, knob included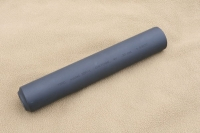 A super-strong and ultra-light bolt handle for your Tikka T3. CNC machined from grade 5 aerospace titanium alloy. Whether you are building the ultimate light-weight mountain rifle, or need to shave a precious few ounces off that competition benchrest rig, or like us, you simply want to use the best gear available.... then this is the ultimate bolt handle.
Our handle and carbon fiber knob combined weigh just less than an ounce (approx 28 grams - much less than the factory steel handle). We inspect each handle one-by-one to ensure each are completely free from any tooling marks, swirls, or post-machining blemishes, then test fit to a specially made dovetail gage prior to packing. We have designed the dovetail for a tight, zero-tolerance fit into the mating slot of the Tikka T3s bolt body to ensure a secure and positive lock.
Link to parts manufacturer