Standard compensator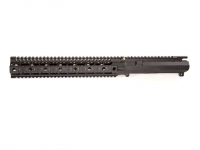 The compensator is designed for IPCS together with one of the best shooters in the Nordic region (Kenneth Salen). The compensator is 3D printed, this will provide control of the gases, which has not previously been possible with traditional production.
The compensator consists of titanium grade 5, which makes the compensator light and strong. There are two holes in the front chamber, dimensioned for the AR 15 platform. The holes can be drilled to remove all mozzle movment. The compensator can be adjusted precisely to your weapon, ammunition and use.

-The TE-Titan compensator gives you full control of the recoil.

Standard compensator:

-Weight 65g.

-Total length: 90mm.

-Build length 75mm.

Deliverd to 19mm or 23mm diameter barrel.

Link to parts manufacturer