SR-4 scope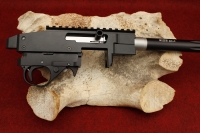 SR-4C Compact, Lightweight, Durable
Versatility always seems to come full circle. Red dot sights have proven to be an indispensable tool for CQB and rapid target acquisition. Enter the SR‑4C, it integrates the strengths of a red dot sight into a compact, unitized package with the added benefit of a 1-4X range of magnification.
The SR-4C features a true 1X power, 4 MOA, daylight visible red dot sight rolled up in a rugged 30mm hard-anodized aluminum body. The second focal plane red dot can be set at any of 12 pre-programmed intensity settings. The lower four settings are night vision compatible. The SR-4C comes standard with a non-lit, MIL Scale reticle for ranging and acquiring targets at short distances to 400+ yards and in close quarters conditions.

When mission accomplishment depends on speed and precision the SR-4C raises the bar and the brass ring.

sr-4 reticle

MIL Scale Reticle
The MIL Scale reticle in the SR-4C is simple yet an effective reticle. The MIL hash marks on the horizontal and vertical axes are 1 MIL apart. The larger hash marks measure 2 MIL in height/width and smaller hash marks measure 1 MIL in height/width. The hash marks represent a total of 6 MILs of adjustment below the horizontal axis; 1 MIL of adjustment above the horizontal axis and 6 MILs of adjustment to the left and right of the vertical axis.
Link to parts manufacturer