SLx6 3-18x50mm FFP Rifle Scope - Illuminated ACSS-Apollo-6.5CR/.224V Reticle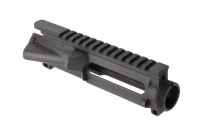 The Silver Series optics are the heart of our lineup. The trusted optics that have built our reputation through the years. Although many SLx optics will be familiar to Primary Arms fans, we are always pushing forward with new generations and adding even more options in response to the demands of our loyal customers.
The Primary Arms 3-18x50mm first focal plane illuminated rifle scope punches far outside of its weight class. At 3x magnification, fast snap shots at close range are a breeze with the daylight bright illuminated reticle, but the scope easily allows shooters to reach the 1,000 yard line when cranked up to the full 18x available at the top end. To make the best of the reticle at every magnification, it has been etched into the first focal plane. This allows it to be 'true' at every magnification, allowing the ranging, hold overs, and wind holds to be used as long as you can see them.

Features:

First Focal Plane reticle is true at every magnification
Full reticle illumination is daylight bright
Link to parts manufacturer