SCAR MREX™- M-LOK™ 6.5″ FDE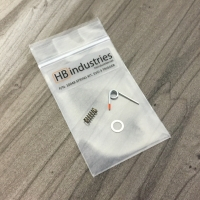 The Kinetic MREX™ Receiver extension provides the solution you've been searching for with your SCAR rifle platform. The MREX™ was designed to be a simple, durable, and lightweight. By utilizing a one piece design, the MREX™ maintains extreme durability. The MREX™ also allows for removal of the barrel with the extension still attached, allowing users to still change out there barrel assembly in just a few screws. The overall design puts modularity in the places you want it and need it and no where else; while reducing the profile of the factory SCAR platform. There is no better solution to add to your SCAR.
Works on all 7.62 and 5.56 SCAR models w/ 16″ or longer Barrels.

"Magpul FDE" Cerakote Finish (*KDG Does not warrant Color Variation in relation to FDE SCARs. SCARs vary in color on the anodized upper receiver. This color was chosen because it is the most consistent with after market FDE accessories from Manufacturers like Magpul*)
Magpul M-LOK™ Modular Design
ADDS ONLY 3.7oz to the weight of your SCAR!
Improved rifle balance and weight distribution
6.5″ added modular rail space from front of SCAR receiver, for use with any SCAR L & H barrel configurations. (certain Flash hiders and certain suppressors will not fit.)
2x Uncle Mikes QD Mounting Points
Installation still allows for quick change barrel. (See Tutorial Video)
Full kit includes 2 MAGPUL M-LOK™ polymer accessory rails, installation torx wrenches, torx screws and vibratite
Materials:
Material: 6061-T6 Aluminum

Finish: Non-Reflective Clear Type III Hard-Coat Anodizing w/ "Magpul FDE" Cerakote
Length: 13.25″
Length added: 6.5″ -Ideal for any standard length SCAR-L or SCAR-H.
Weight of full kit: 9.6oz
100% Made in the USA
Link to parts manufacturer